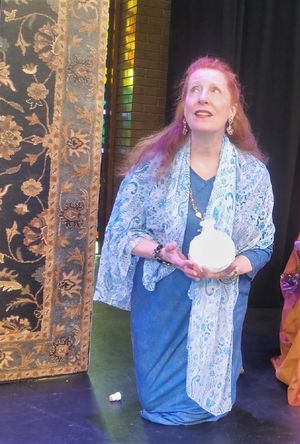 FREQUENT QUESTIONS
WHAT IS THE STORY ABOUT? 
The script for "Mary Magdalene - At the Feet of Jesus" is based on Biblical scripture, familiar Bible stories, and authentic Church resources and writings.  This story... 
    Shines a holy and reverent light on this great saint 
    Shows God's Mercy through Mary Magdalene's redemptive journey 
    Affirms the Real Presence of Jesus in the Eucharist 
    Highlights the friendship between Mary Magdalene and the Blessed Mother 
WHAT INSPIRED THIS DRAMA?
My Holy Land pilgrimage to an ancient Magdala synagogue where Mary Magdalene and Jesus may have walked sparked the inspiration to honor this great saint with a one-woman drama. I take to heart St. Pope John Paul II's declaration from The Way of Beauty "In order to convey the message entrusted to her by Christ, the Church needs art."   My mission with this performance is to draw hearts closer to Jesus, and to support the culture of life through Catholic edutainment.  
HOW MUCH SPACE IS REQUIRED?
This performance adapts to any space large or small. Performances are presented in either the church, a parish activity center, stage, school, or auditorium.  No large sets or scenery are used.  No special lighting is needed, and there are minimal technical requirements.
HOW LONG IS THE PERFORMANCE?  
The actual drama performance time is about 65 minutes.   The set-up time is about one hour.
WHAT EVENTS DO YOU PERFORM AT?
This performance  works perfectly for parish-wide events, conferences, catechetical programs, schools (study questions are provided,) fundraisers, and inspirational worship events. It is recommended for ages 10 through adult.
WHAT IS THE COST TO HOST THE DRAMA?
Because this is a one-person performance, the cost is reasonable. Many churches accept a free-will offering. Depending upon your location and the possible need for travel, costs vary.  Nancy Scimone assists with promotion and publicity.
HOW DO I SCHEDULE A PERFORMANCE?
Performances are now being scheduled for 2023 and 2024.  There is no commitment to inquire more about the performance or to discuss possible dates.  Please  EMAIL or  call 571 - 232 - 1873.  Thank you.
"Thank you so much for your Biblical presentation... wonderful and gripping." 
Faithful and obedient to the Holy Roman Catholic Church's teaching magisterium. Nancy Scimone has completed VIRTUS training.